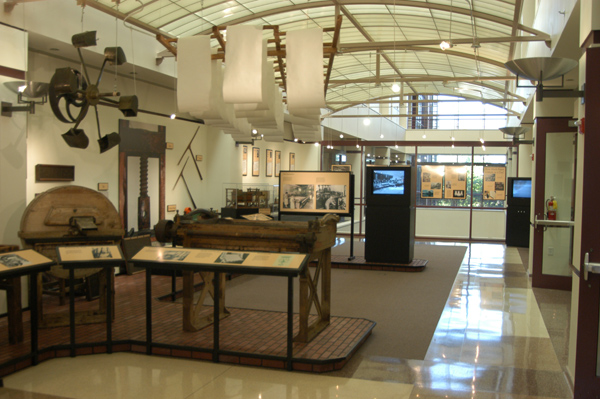 "From Hand to Machine: The Evolution of Papermaking", is featured in the George W. Mead Paper Education Center. The exhibit details the evolution of science and technology in papermaking, showcasing artifacts from the 1300s to paper made in space aboard the space shuttle Columbia.
Throughout history, papermaking by hand or by machine, has had five needs which have remained constant:
A clean source of water.
A close and abundant supply of fiber.
The tools to make the paper.
A method of transporting the product.
A market to purchase the paper.
In 1690 the Rittenhouse family arrived in Colonial America. They brought with them from Europe a mould and a deckle, the tool to form a sheet of paper, and the knowledge of papermaking. At their new mill site they built all their larger tools, including the stapmers, vat, press, and drying racks. The mill site they chose was located near a village where cloth scraps from weavers were available for fiber, and running water in the creek was free from mineral deposits which would discolor the paper. The short haul to market was made by horse and wagon. The local printer, anxious to have a reliable source of paper, was ready to purchase all the mill could produce.
Today paper mills still locate near sources of water which are free from mineral deposits. They use a variety of fibers for papermaking, but by far the most popular are recycled paper and wood. The tools have become complex high-tech machinery, but they still perform the same steps carried out by the early papermakers. Railroad cars, container ships, and freight trucks now transport the paper to market, which is now both national and international. Despite predictions of a paperless society, today's average American consumes more that 675 pounds of paper per year.