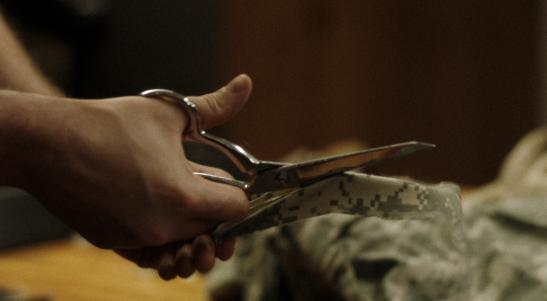 Frontline Paper Veterans' Workshop
Date:
Friday, January 14, 2022
Time:
11:00am-4:00pm
Category:
Adult Workshop
Member Price:
FREE
Non-Member Price:
FREE
Registration Deadline:
Program Description:
In partnership with Frontline Paper and producers of the film This is Not a War Story, the Paper Museum is hosting a papermaking workshop for veterans, active duty, and civilians on Friday, January 14, 2022. Facilitated by Eli Wright and Nathan Lewis, veterans and papermakers, workshop participants will use papermaking as a platform to come together and share stories and discourse about their own experiences. Frontline Papers' specialty is "the transformative process of making handmade paper from military uniforms."
The first half of the workshop consists of collaboratively cutting a uniform for the papermaking process. After a lunch break, participants will learn the papermaking process to create paper. During the workshop, participants are invited to share stories about their military experiences. While the workshop is focused on veteran experiences, civilians may attend as well. This workshop is not suitable for youth audiences. Box lunch included.
How to Register for this event:
FREE: Pre-registration required, space is limited. To register, contact Anna Doll at anna.doll@rbi.gatech.edu  or 404-894-7840.