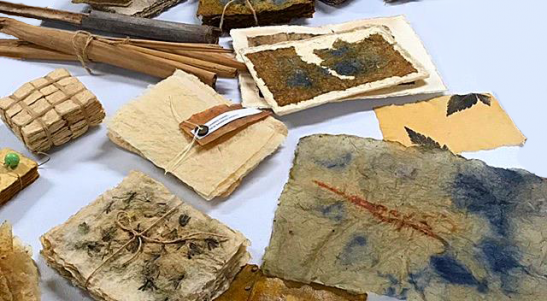 In-Person Papermaking from natural fibers
Date:
Saturday, April 30, 2022
Time:
10:00am-4:00pm EDT
Category:
Adult Workshop
Instructor:
Robert Thompson
Member Price:
$110.00
Non-Member Price:
$125.00
Registration Deadline:
Program Description:
Interested in making paper from natural fibers? Then join us for this day–long workshop where participants will explore making paper from materials like banana leaves and stalks, bamboo fibers, pine, and pine bark. Local Atlanta paper artist and owner of Lot 10 Paper, Robert Thompson, will be sharing a variety of paper samples, plant fibers, and tools with participants during this workshop, and participants will learn a variety of papermaking techniques. All skill levels welcome.
How to Register for this event:
Click here to register online for this workshop!
Or, contact Anna Doll at Anna.Doll@rbi.gatech.edu or 404-894-7840 to register for the program.