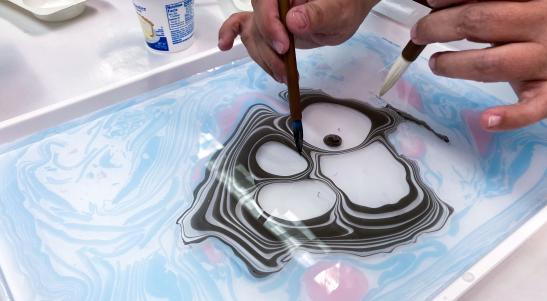 In-Person Suminagashi: Japanese Paper Marbling
Date:
Tuesday, September 27, 2022
Time:
7:00pm-8:30pm
Category:
Adult Workshop
Instructor:
Museum Staff
Member Price:
$30.00
Non-Member Price:
$35.00
Registration Deadline:
Program Description:
This workshop is back by popular demand. Suminagashi means, "Ink floating on water," and is the Japanese form of paper marbling. In this evening workshop you will learn the basics of this form of paper marbling, and make your own beautiful marbled creations. All supplies will be provided and are included in the cost of the workshop. Join us for some marvelous marbling!
How to Register for this event:
Registration Full 
Contact Anna Doll at Anna.Doll@rbi.gatech.edu or 404-894-7840 to be added to the wait list.