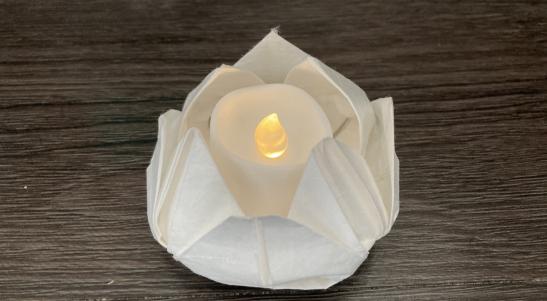 Tech's Tactile Thursdays Origami Lanterns
Date:
Thursday, April 7, 2022
Time:
4:30-6:00pm EDT
Category:
Tech's Tactile Thursdays
Instructor:
Museum Staff
Member Price:
FREE
Non-Member Price:
FREE
Registration Deadline:
Program Description:
Light-up your space with your own handmade tea-light lanterns. Participants will have the opportunity to make two origami lanterns: the lotus blossom and star lantern. Learn how to fold translucent decorative paper into beautiful creations and then add tea lights to make them shine! 
How to Register for this event:
Register through Eventbrite. Workshop for Georgia Tech students and employees held in the Price Gilbert Library in the scholar's theatre. For more information or questions contact Catherine Manci at cmanci3@gatech.edu
Visit the Georgia Tech Library's Website