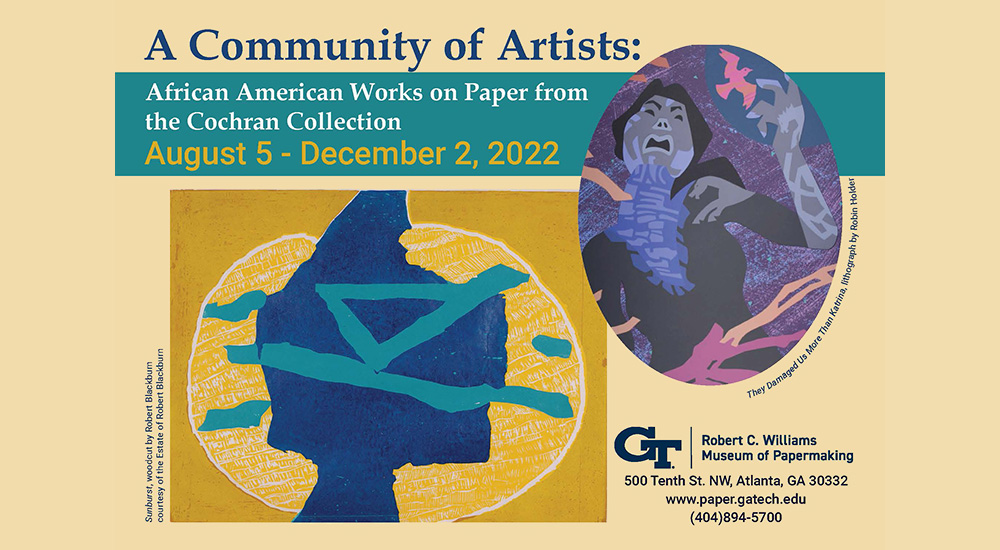 A Community of Artists: African American works on paper from the Cochran Collection
August 5 - December 2, 2022
A Community of Artists: African American Works on Paper from the Cochran Collection showcases fifty noted 20th century American artists.  The exhibit is a portion of the collection curated by Wes and Missy Cochran, of LaGrange, GA. Selections illuminate the contributions of artists with ties to Georgia, women artists, and master printers within the larger art world's dialogue around artistic expression, equity in the arts, and societal justice. 
This exhibit includes the works of Ron Adams, Jim Alexander, Emma Amos, Benny Andrews, Radcliffe Bailey, Trena Banks, Romare Bearden, Camille Billops, Robert Blackburn, Betty Blayton, Chakaia Booker, Moe Brooker, Vivian E. Browne, Beverly Buchanan, Elizabeth Catlett, Barbara Chase-Riboud, Sonya Clark, Kevin Cole, Eldzier Cortor, Allan Rohan Crite, Tina Dunkley, Allan Edmunds, Reginald Adolphus Gammon, Sam Gilliam, Trenton Doyle Hancock, Leon Hicks, Robin Holder, Curlee Raven Holton, Albert Huie, Margo Humphrey, Wilmer Angier Jennings, Ronald Joseph, Jacob Lawrence, Norma Morgan, Adrian Piper, Martin Puryear, Faith Ringgold, Aminah Brenda Lynn Robinson, Alison Saar, Betye Saar, John T. Scott, Lorna Simpson, Lou Stovall, Alma Thomas, Mildred Thompson, Dox Thrash, James Van der Zee, James Lesesne Wells, Charles White, and Hale Woodruff.
Public Tours
Free tours are offered on the following dates and times: 
Friday, Sept 9, 10- 10:30a
Friday, Sept 16, 10 - 10:30a
Thursday, Sept 22, 7 - 7:30p
Wednesday, Sept  28, 11:30 - Noon
Friday, Oct 7, 10 - 10:30a
Friday, Oct 14, 10 - 10:30a
Wednesday, Oct 19, 11:30 - Noon
Thursday, Oct 27. 7 - 7:30p
Friday, November 4, 10 - 10:30a
Wednesday, November 16, 11:30 - Noon 
Thursday, November 17, 7 - 7:30p
These public tours are suitable for individuals and small groups. Groups of 10 or more are encouraged to contact Anna Doll at Anna.Doll@rbi.gatech.edu to arrange a tour. 
Learn more of about the artists featured in the exhibit via this video playlist. You can even hear from several of the artists in their own words!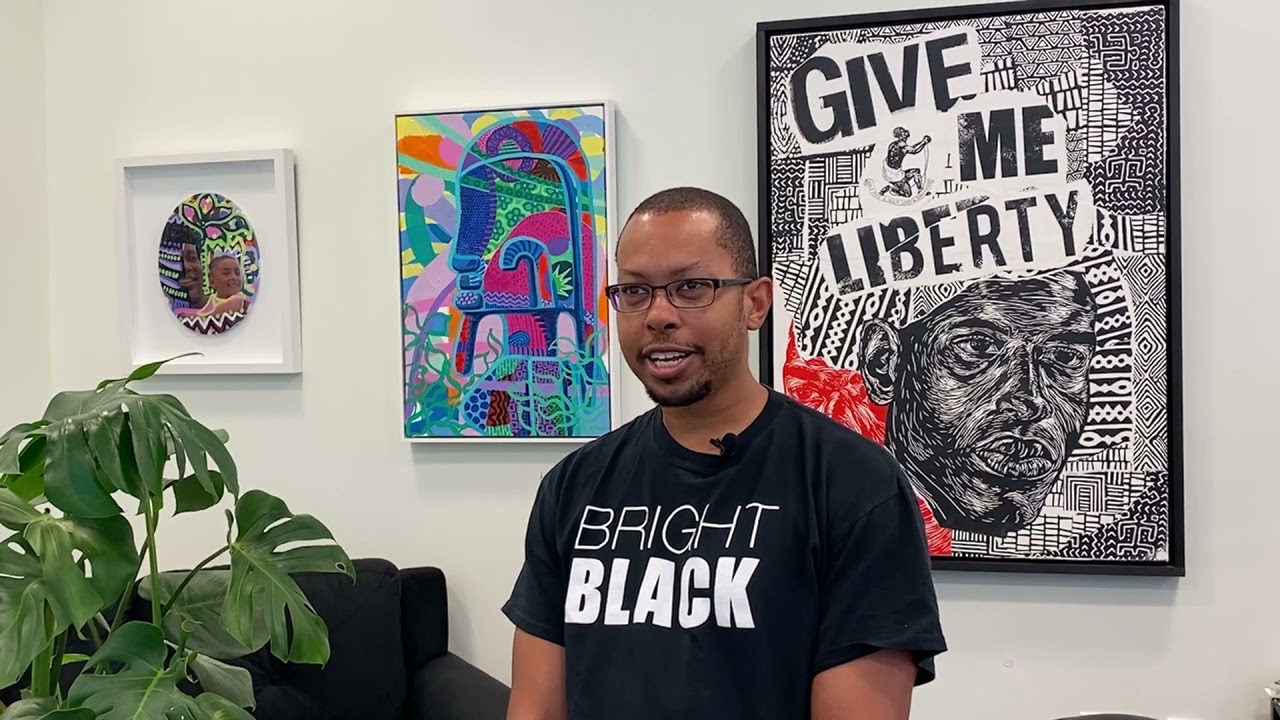 Jamaal Barber seated in front of his artwork
Virtual Lecture: Black Master Printers and their Impact
Date: Tuesday, September 6, 2022
Time: 7:00-8:00pm EDT
Speaker: Jamaal Barber
Price: FREE
Join us for this virtual lecture with Atlanta based printmaker, Jamaal Barber, who will be discussing  the key role of master printers and printshops as community builders and creative collaborators.
Blank Space (Medium)
(text and background only visible when logged in)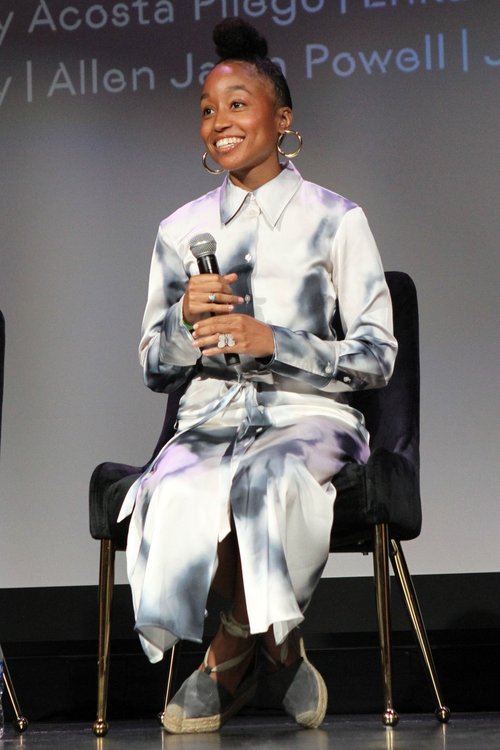 Jasmine Wilson seated during a program - photo credit: Connie Cross
Virtual Lecture: The Power of Women's Voice
Date: Tuesday, September 20, 2022
Time: 7:00-8:00pm EDT
Speaker: Jasmine Wilson
Price: FREE
Join Jasmine Wilson, Temporary Exhibitions Curator for the Spelman Museum, as she discusses some of the female artists featured both in Spelman's Fine Art Collection and the African American Works on Paper Collection of Wes and Missy Cochran.
Blank Space (Medium)
(text and background only visible when logged in)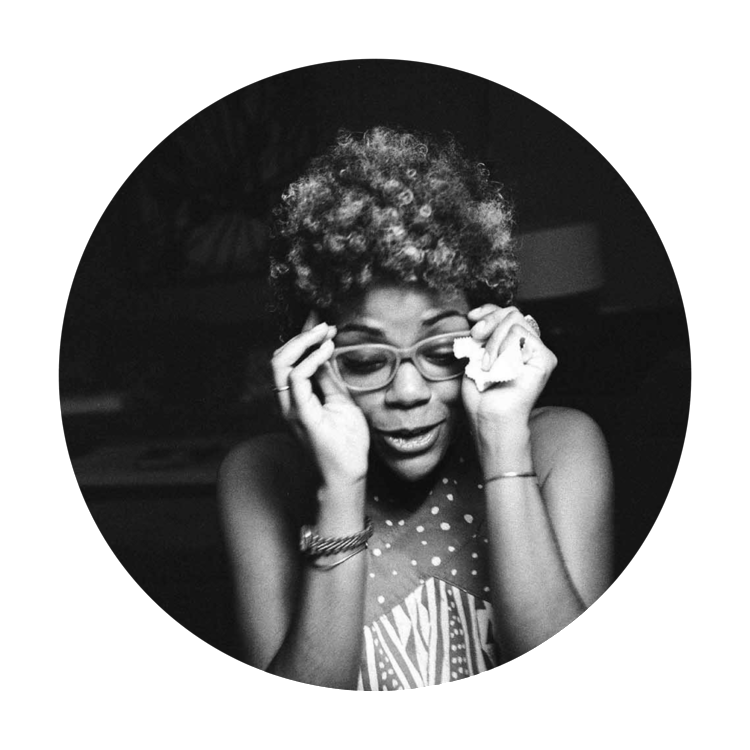 Kimberly Diana Jacobs
Virtual Lecture: Art History through the Clark Atlanta and Cochran Collections
Date: Tuesday, November 1, 2022
Time: 7:00-8:00pm EDT
Speaker: Kimberly Diana Jacobs
Price: FREE
Kimberly Diana Jacobs places the African American artists featured in the Clark Atlanta University Art Museum collection and the Collection of Wes and Missy Cochran into the context of 20th Century Art History.
Blank Space (Medium)
(text and background only visible when logged in)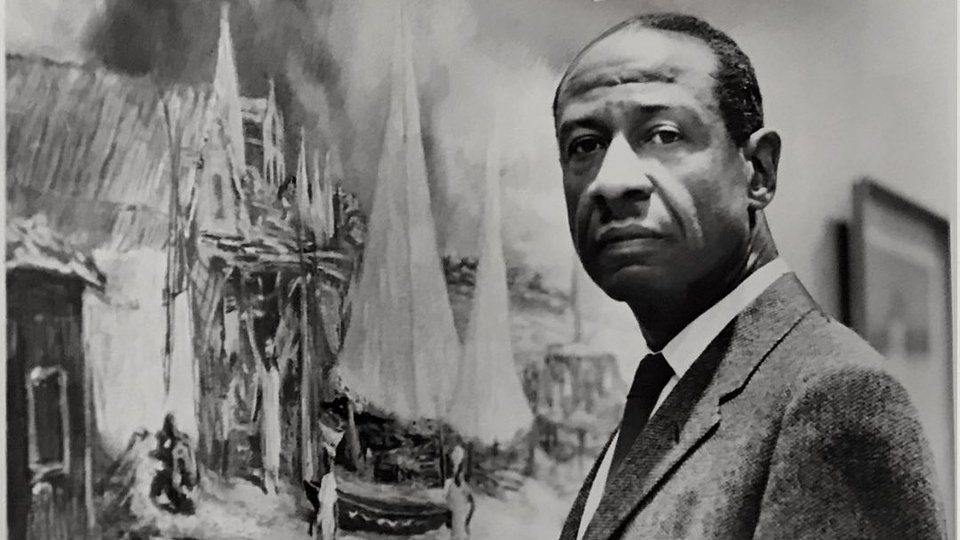 James A. Porter, Howard University Chair of the Art Department and Art Historian
A Brief History of African American Art
"Work by Black American artists has frequently been discussed as though it were a form of expression separate from that produced by artists of the majority culture.... The Black artist is no different from any other in his struggle to express his own individual sensitivity to order and form and at the same time relate to the cultural patterns of the time and place in which he lives....Although history has recorded few names of Black American artisans, one is increasingly aware of fine quality craftsmanship that proves they have been major contributors to every stage of this nation's cultural development…."

-David Driskell, Two Centuries of Black American Art (1976)
Before the 1920s, African American artists seldom portrayed the Black experience, opting for landscapes, Biblical stories, or Caucasian portrait subjects. The period between World War I and II (1919 –1941) included concerted efforts by African American community leaders, artists, and scholars to express racial pride and redefine what it meant to be a Black American. The Harlem Renaissance embodies this social and cultural uprising by the Black working class. Artists connected to the Harlem Renaissance include Romare Bearden, Elizabeth Catlett, Charles White, and Jacob Lawrence. Also during this time, the Federal Works Progress Administration provided employment and exposure for Black artists to offset the economic hardships of the Great Depression. Dox Thrash, Wilmer Angier Jennings, and many others developed portfolios through work with the WPA. Another source of financial support 16 for Black artists came from private foundations like the Harmon and Rosenwald Foundations. These organizations provided financial, educational, and travel support to Black artists. Hale Woodruff, Eldzier Cortor, and Ronald Joseph benefitted from these patronages.
By mid-century the artistic landscape shifted toward abstraction. Though African American artists worked in and developed the various forms of abstract expressionism alongside white contemporaries, they received little to no recognition. Critics had difficulty divorcing preconceived racial expectations of Black artists from a true assessment of the artistic merit of their work, accusing African American abstract artists of being derivative. Lack of funding and racism from galleries and critics meant few opportunities for exhibitions, patronage, and critical reviews in the press for African American artists.
The social unrest of the 1960s was reflected in art, and African American visual artists developed groups to utilize artmaking as part of the political struggle for social equality and economic opportunity.  Their works portrayed the revolutionary struggles for survival as well as victory for Black and Brown peoples over their oppressors. Artist collectives like the Chicago-based group Afri-Cobra and the Harlem-based group Weusi focused on creating art heavily rooted in images of Black culture to establish a distinct "Black Aesthetic". Spiral Artists' Group was formed as a response to the March on Washington, and the Black Emergency Cultural Coalition formed in protest to discriminatory practices at the Whitney Museum. Artists including Reginald Adolphus Gammon, Faith Ringgold and Nelson Stevens organized and participated in these affiliations. These groups also focused on self-reliance, often showing in non-traditional venues or establishing their own gallery spaces.
At the same time groups like Afri-Cobra and Where We At Black Women Artist Inc. were producing exhibitions and shaping conversations about the role of Black artists. African American Institutions developed and gained visibility. Institutions and organizations strengthened visibility for artists and served as training grounds for African American curators, gallerists, and other museum professionals. The Black Arts Movement forced artists to defend the ways in which their artistic output reflected their identity as a Black person as well as their connection to the "struggle," rekindling debates around art for art's sake and art in service to the community. Many artists found the "Black Aesthetic" too constraining and pushed back with the view that an artist is a person outside of the community whose function is 'to bring to the community the highest level of ideals and ideas.'
When Postmodernism emerged in the 1980s, multiple creation techniques ranging from video art to conceptual art asked viewers to question institutions and canonical traditions.
"'Black' of the 1980s and '90s is not an identity but identities, a closer approximation to the real world, in which cultural survival involves not only acclaiming differences but also recognizing differences within it."
-Shannon F. Patton, African American Art (1998)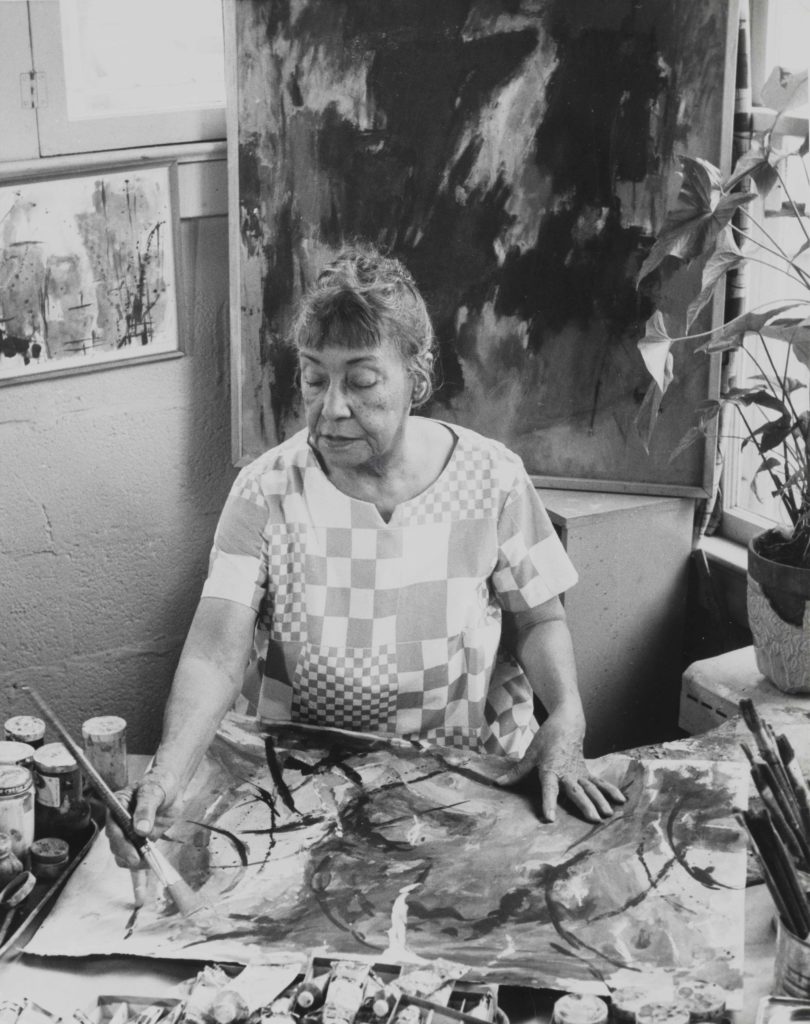 Alma Thomas working in her studio, ca. 1968 / Ida Jervis, photographer. Archives of American Art, Smithsonian Institution.
Georgia Artists
Throughout the 20th century, African American artists formed collectives, staged group and juried shows, and critically thought about, discussed, and wrote philosophies challenging the constraints placed on artists of color. They also taught their skills and techniques to new generations of artists, making major impacts both as formal and informal educators. Through it all, Georgia artists and the Atlanta University Center (a consortium of four Historic Black Colleges and Universities which currently consists of Clark Atlanta University, Morehouse College, Spelman College, and Morris Brown) played a substantial role in contributing to the creation of new work by African-American artists. As chairman for the AUC, Hale Woodruff created the nation's first fine art department at a Historically Black College or University. Woodruff established an annual juried exhibition in 1942 which lasted until 1970. The AUC's arts program and annual juried exhibitions worked with nationally acclaimed scholars and artists, making Atlanta the model for African American arts education and scholarship. The following are the artists in the exhibit with Georgia connections and a selection of their accomplishments:
Alma Thomas (1891-1978) from Columbus | major painter of the Washington Color Field School | 1st graduate of Howard University art department | 1st Black woman to have a solo exhibition at the Whitney | solo exhibition at the Corcoran
Dox Thrash (1893-1965) from Griffin | Harmon Foundation Grantee | Head of the WPA graphics division in Philadelphia from 1935-1942
Hale Woodruff (1900-1980) Harmon Foundation Prize Winner & Grantee | WPA | Art dept Chairman for the Atlanta University Center | co-founder Spiral organization
James Lesesne Wells (1902-1993) from Atlanta | major painter and printmaker in Washington, DC and Harlem | 39 year tenure Howard University art department | Harmon Awardee for Distinguished Achievement Among Negroes for Fine Arts | Sabbatical in Paris at Atelier 17 | Presidential citation for lifelong contributions to American art from President Jimmy Carter
Benny Andrews (1930-2006) from Plainview | Visual Arts Program Director for the NEA from 1982-1984 | MacDowell Colony Board of Directors
Jim Alexander (1935) lives and works in Atlanta | mentored by Gordon Parks | co-founds the National Black Media Coalition| Photographer-in-residence at Clark Atlanta University | Co-founder of First World Bookstore Chain | first artist featured in Atlanta Masters Series
David Driskell (1931-2020) from Eatonton | leading authority on African American Art | Driskell Center | National David C. Driskell Prize
Mildred Thompson (1936-2003) Artist-in-residence at Spelman College | Professor at the Atlanta College of Art | Editor of Art Papers magazine
Lou Stovall (1937) from Athens | master printer and founder of Workshop, Inc printshop later affiliated with the Corcoran Museum
Emma Amos (1937-2020) from Atlanta | only female member of Spiral | originator and co-host of Show of Hands on WGBH-TV in Boston | designed the Ralph David Abernathy Memorial in Atlanta | Editor of Heresies: A Feminist Publication on Art and Politics | member of Guerilla Girls
Tina Dunkley lives and works in Atlanta | former Director of the Clark Atlanta University Art Museum | Women's Caucus for Art Lifetime Achievement Award | Published Author | Tina Dunkley Curatorial Fellowship
Beverly Buchanan (1940-2015) moved to Macon in 1977 | Georgia Visual Arts honoree | mentored by Norman Lewis and Romare Bearden | Guggenheim Fellow | National Endowment for the Arts Fellow | Anonymous Was a Woman Award
Kevin Cole (1960) lives and works in Georgia | member of AfriCobra | Knight Foundation Fellow | David C. Driskell Fellow | Georgia Governor's Award for the Art & Humanities | MOCA GA Working Artist Project
Trena Banks (1963) from Scottsdale, GA | included in Atlanta Biennial at the Nexus Contemporary Art Center and publication titled Gumbo Ya Ya: Anthology of Contemporary African-American Women Artists
Radcliffe Bailey (1968) lives and works in Atlanta | Art Professor at University of Georgia | artwork in the permanent collections of The Metropolitan, The Smithsonian, The Art Institute of Chicago, The High Museum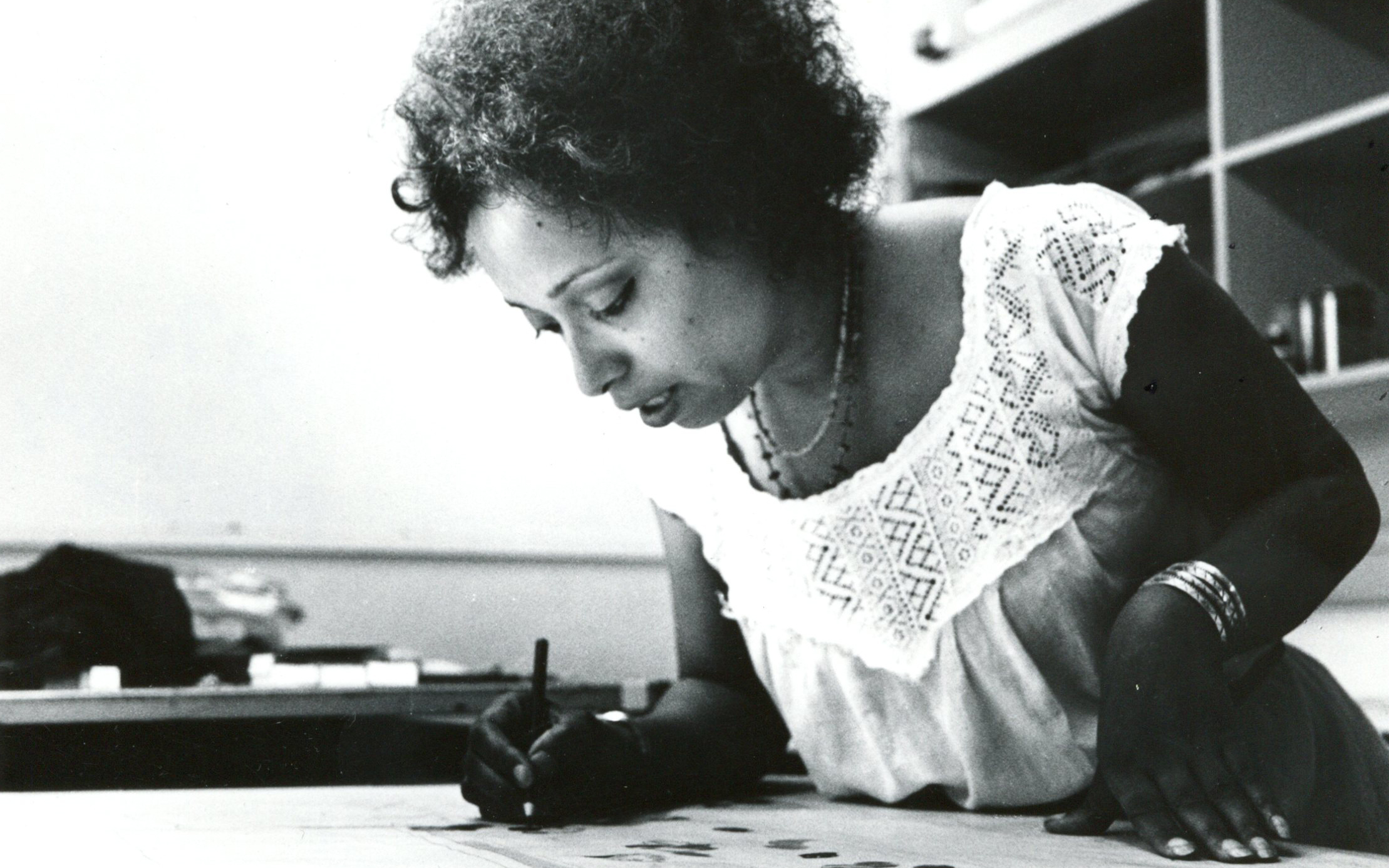 Margo Humphrey
Women's Voices
"….The majority of these artists work at the edge of the mainstream, yet the sheer weight of their extraordinary imagery will force the center of attention to a new focal point of consideration. It took 353 years from the arrival of African-American women on our shores for Alma Thomas, the first woman of African descent, to be recognized and celebrated with an exhibition in 1972 at the Whitney Museum of American Art in New York. The numbers of practicing Black female artists are increasing rapidly with ever-widening variety...."
-Leslie King-Hammond, Gumbo Ya Ya: Anthology of Contemporary African-American Women Artists (1995)
Twenty-two of the fifty artists in this exhibit are women. The progress for equal representation and income for women artists has been hard fought. According to 2019 statistics from the National Museum of Women in the Arts, only 11% of all acquisitions at 26 prominent U.S. museums over the past decade were of work by women artists; 46% of visual artists in the United States are women but they earn 74 cents for every dollar earned by their male counterparts, and the amount is less as women artists age. When analyzing the collections of 18 major U.S. art museums, 87% of the artists were male, 85% were white, and just 1.2% were African American.
"The truth is that women have never been treated equally in the art world, and today they remain dramatically underrepresented and undervalued in museums, galleries, and auction houses."
-National Museum of Women in the Arts
The women in this show have faced these challenges head on, fighting the dual fronts of sexism and racism. They have advocated for their rights as individuals and within groups. Below are just a few of the accomplishments of these talented women:
Betty Blayton (1937-2016) Co-founded the Studio Museum of Harlem | Founder and educator of the Children's Art Carnival in Harlem | Author of Making Thoughts Become: A Handbook for Teachers and Adults | Withdrew from a Whitney Museum exhibition in 1971 along with 15 other artists in protest of a Black curator not being hired to organize the Contemporary Black Artists in America exhibition | Board Member for the Robert Blackburn Printmaking Workshop
Chakaia Booker (1953) Received international acclaim at the 2000 Whitney Biennial with the piece It's So Hard to Be Green | Pollock-Krasner Grantee | Guggenheim Fellowship
Vivian Browne (1929-1993) Member of the influential feminist collective Heresies | Board member for The Feminist Institute, the first women's art school in New York | Chair of the Rutgers University Art and Design Department | MacDowell Colony Fellow | Fulbright panelist
Camille Billops (1933-2019) Co-founded the Hatch-Billops Collection, Inc., a non-profit research library of African American historical documents focusing on the arts | published Artist and Influence annual journal | Directed 6 films with her husband under their own film company, Mom and Pop Productions
Barbara Chase-Riboud (1939) Developed an innovation to the direct lost wax method of casting bronze | Knighted by the French government as Chevalier de l'Ordre des Arts et des Lettres | worked at the Cinecittà Studios in Rome designing sets for Hollywood epics like Ben Hur | renowned author receiving the Janet Heidinger Kafka Prize for her first novel Sally Hemings
Sonya Clark (1967) Received the Hunter Museum of Art Juror's Choice Award from Sam Gilliam | Smithsonian Artist Research Fellow | 1858 Award for Southern Contemporary Art | Brandywine Workshop Lifetime Achievement Award
Robin Holder (1952) Experimental Printmaking Institute serigraph edition for Atlanta Black Arts Festival | Interviewed by Dr. Halima Taha for the Hatch Billops Collection and Archives: Artist and Influence | Mid-Career Retrospective at the David C. Driskell Center | co-curator of Disillusionment, an exhibition of 25 women artists
Margo Humphery (1942) Undergraduate Whitney Museum of American Art Fellow | Tamarind Institute Residency | Ford Foundation fellow | National Endowment for the Arts fellow | first American artist to be in the permanent collection of the National Gallery in Lagos, Nigeria
Norma Morgan (1928-2017) One of only two African American female members of Atelier 17 | Study in England and Scotland via a John Hay Whitney Fellowship | Louis Comfort Tiffany Foundation Grantee
Adrian Piper (1948) Introduced issues of race and gender into the language of Conceptual art | Women's Caucus for Art Lifetime Achievement Award | Won the Golden Lion Award for Best Artist in the 56th Venice Biennale for The Probable Trust Registry | first American to receive Germany's Kaethe Kollwitz prize | the Adrian Piper Research Archive supports interdisciplinary scholars to balance two concurrent and interrelated careers
Faith Ringgold (1930) Co-founded Ad Hoc Women's Art Committee | co-founded Women Students and Artists for Black Art Liberation, the National Black Feminist Organization, and "Where We At" Black Women Artists | Studio Museum of Harlem Artist of the Year | Tar Beach receives the Coretta Scott King Award for illustration | American Academy of Arts and Letters Award
Aminah Robinson (1940-2015) Participated in the March on Washington | Ohio Governor's Award for the Visual Arts | Solo exhibition at the National Museum for Women in the Arts | MacArthur Award Grantee for Folk Art | Aminah Robinson Residency launched to support African American visual artists
Alison Saar (1956) Artist-in-Residence at the Studio Museum of Harlem | Anonymous Was a Woman | Joan Mitchell Center Residency | American Academy of Arts and Letters Award in Art | Southern Graphic Council International Lifetime | Achievement Award in Printmaking
Betye Saar (1926) Member of the female art collective Womanspace | National Endowment for the Arts Fellow | J. Paul Getty Fund for the Visual Arts Fellow | Guggenheim Fellow | Represented the U.S. at the 22nd Biennial of Sao Paulo in Brazil | Lifetime Achievement Award in Fine Arts from the Congressional Black Caucus
Lorna Simpson (1960) First African American woman to exhibit in the Venice Biennale | Whitney Biennial | Early career retrospective at the Studio Museum of Harlem | 56th Venice Biennales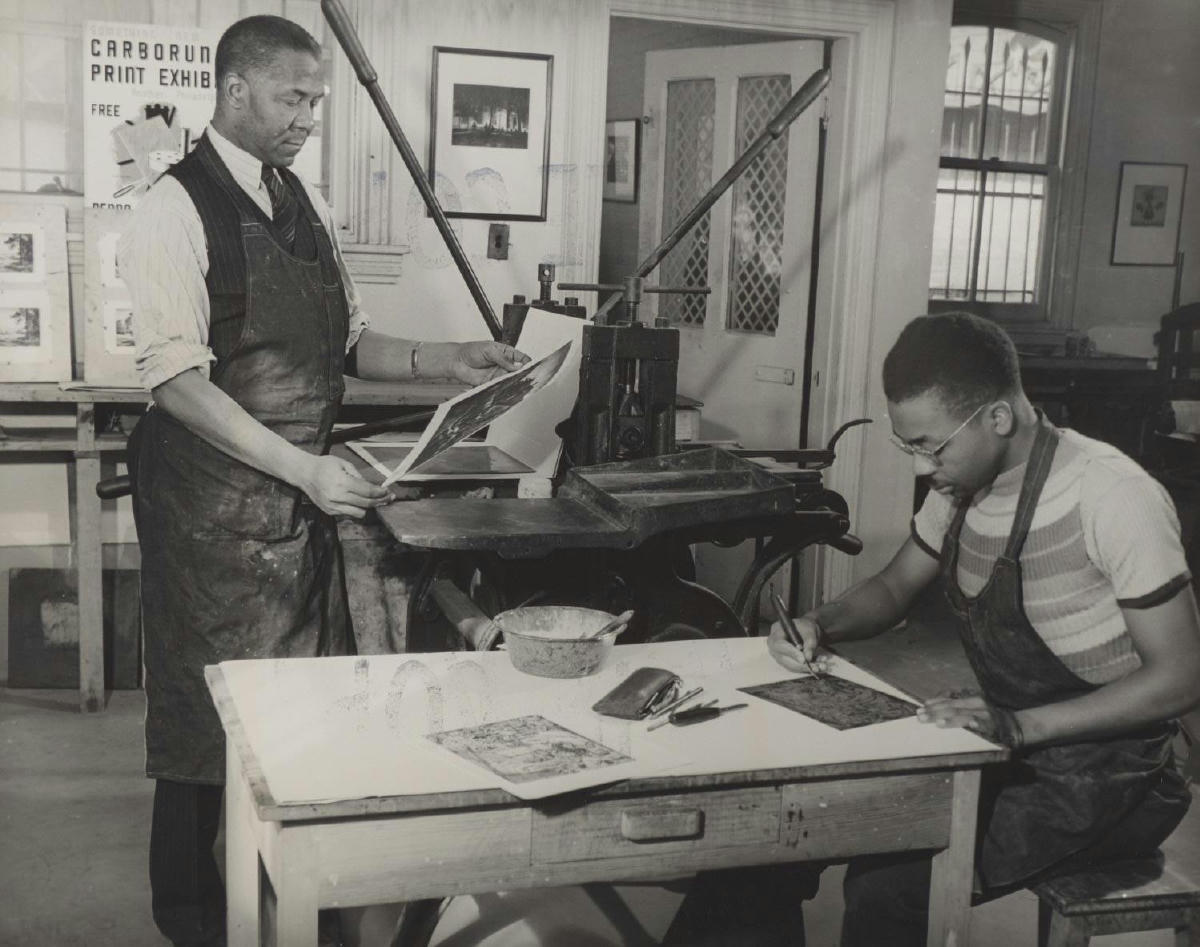 Dox Thrash and Claude Clark in a WPA Print Shop
Master Printmakers
"The Federal Arts Project provided, through the graphics division, an impetus for the development of printmaking as an important medium in American art. The government's support lead to the establishment of printmaking workshops across the country and to the mounting of several exhibitions at the Federal Art Gallery. These initiatives provided for African-American artists such as James Wells (1902-1993), John Wilson (1922-2015), Robert Blackburn (1920-2003), and Dox Thrash (1892-1965), a chance to train or refine their techniques in lithography, serigraphy, and etching."
-Sharon F. Patton, African-American Art (1998)
Dox Thrash (1893-1965) served as the head of the WPA graphics division in Philadelphia from 1935-1942. He invented the carborundum mezzotint printmaking technique during that time. The Fine Print Workshop was formed in 1937 in Philadelphia as a freestanding division of the Federal Arts Project (FAP). Unlike other FAP printshops, the Philadelphia branch was not required to meet quotas of work for special projects. Instead, they created works for exhibition in public institutions.
Elizabeth Catlett (1915-2012) was internationally known for her prints and sculptures that explored issues of race, class, gender, & social justice. A grant from the Rosenwald Foundation enabled Catlett to travel to Mexico City in the 1940s where she connected with Taller de Grafica Popular, an influential group of printmakers focused on producing sociopolitical art. Her affiliation with Taller de Grafica Popular lead to Catlett meeting her 2nd husband, setting up permanent residence in Mexico, becoming a Mexican citizen, and the U.S. exiling Catlett for her political associations. Even during her years of exile, Catlett's art continued to be influential and widely circulated in the United States and internationally.
Robert Blackburn (1920-2003) studied at the Harlem Community Art Center and the Art Students League. As a freelance graphic artist, he worked with the Harmon Foundation and Associated American Artists. In 1947, Blackburn opened the Printmaking Workshop, printing for artists and encouraging friends to experiment with lithography. When the influential Atelier 17 left New York in 1950, the Printmaking Workshop filled that void in the printing world. Artists like Charles White considered Blackburn their primary New York printer.
Lou Stovall (1937) founded Workshop, Inc. in 1968 producing screenprinted community posters in the Georgetown art district of Washington, DC. Based on the studio's reputation for quality prints, the Corcoran Gallery of Art invited Stovall to expand Workshop, Inc. in an extension of the museum. Stovall's studio grew to be an internationally respected printmaking facility, working with artists such as Jacob Lawrence, Sam Gilliam, Elizabeth Catlett, Louis Delsarte, Samella Lewis, Lois Mailou Jones, Jeff Donaldson, and others. Stovall is recognized as an innovator in screenprinting.
Allan Edmunds (1949) founded Brandywine Workshop and Archives (BWA) in 1972 It was a collective of artists and art teachers in North Philadelphia working with predominately Black and Hispanic working-class local teens and young artists to produce limited edition fine art screenprints. Early works included projects with Sam Gilliam and Romare Bearden. By the 1980s the workshop started the Offset Institute at BWA to create original artistic lithographs. After developing traveling exhibitions with the Smithsonian, Brandywine is currently focusing on developing a digital database and archive.
Ron Adams (1934-2020) was a master printer who worked at prestigious commercial printshops such as Gemini G.E.L. printing workshop in Los Angeles and Editions Press in San Francisco. As a master printer in commercial shops Adams worked with artists such as John Biggers and Judy Chicago. He eventually opened his own shop, Hand Graphics Ltd. In 1987 he sold Hand Graphics Ltd. to focus on producing his own artwork. His artworks can be found in such collections as the Bronx Museum, the National Museum of American Art, the Library of Congress and the California Afro-American Museum.
Curlee Raven Holton (1951) founded the Experimental Printmaking Institute (EPI) in 1996 on the campus of Lafayette College in Easton, PA. EPI developed as a student-centered professional workshop executing prints for artists' residencies. The mission of the institute is to advance the art of printmaking by combining traditional printmaking techniques with experimental approaches. The Institute has produced prints for artists such as Faith Ringgold, Chakaia Booker, Alison Saar, Allan Edmunds, Kevin Cole, and Robin Holder. Holton was appointed the Director of the David Driskell Center in 2014 and officially retired from EPI in 2017.