Blank Space (Medium)
(text and background only visible when logged in)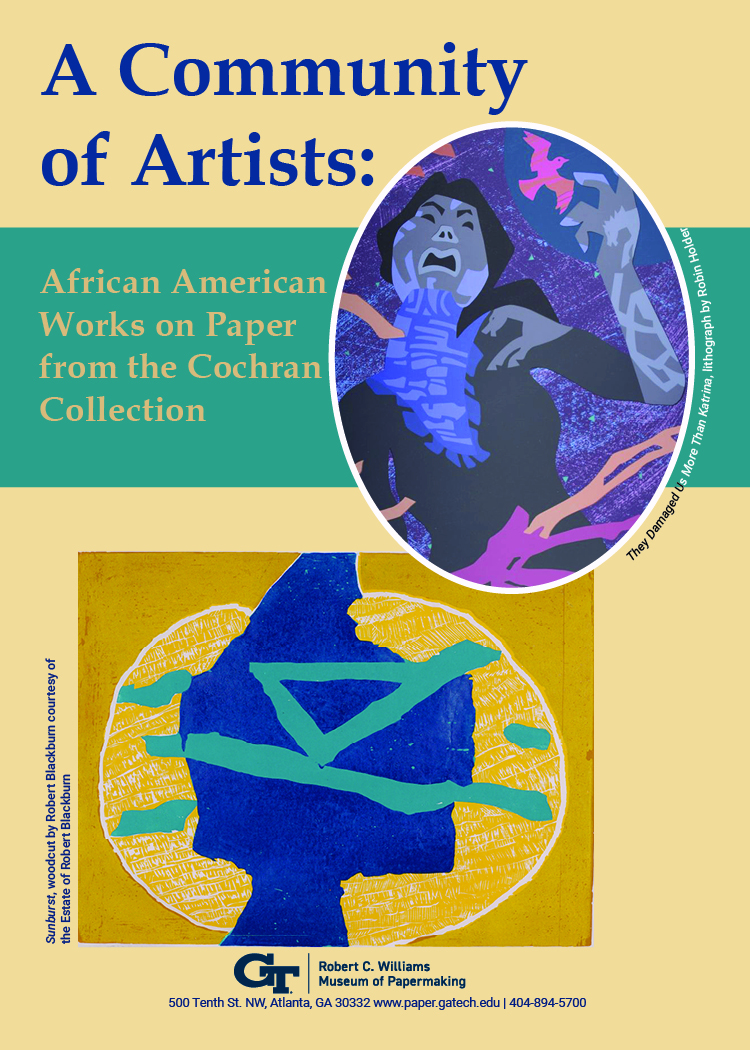 They Damaged Us More Than Katrina, lithograph, Robin Holder – courtesy of the artist 
Sunburst, woodcut, Robert Blackburn – courtesy of the Estate of Robert Blackburn 
A Community of Artists: African American Works on Paper from the Cochran Collection
August 5 - December 2, 2022
A Community of Artists: African American Works on Paper from the Cochran Collection showcases fifty 20th century artists. These works on paper illuminate the ways in which artists' work and lives were in communication with one another and the larger art world. 
This exhibit includes the works of Ron Adams, Jim Alexander, Emma Amos, Benny Andrews, Radcliffe Bailey, Trena Banks, Romare Bearden, Camille Billops, Robert Blackburn, Betty Blayton, Chakaia Booker, Moe Brooker, Vivian E. Browne, Beverly Buchanan, Elizabeth Catlett, Barbara Chase-Riboud, Sonya Clark, Kevin Cole, Eldzier Cortor, Allan Rohan Crite, Tina Dunkley, Allan Edmunds, Reginald Adolphus Gammon, Sam Gilliam, Trenton Doyle Hancock, Leon Hicks, Robin Holder, Curlee Raven Holton, Albert Huie, Margo Humphrey, Wilmer Angier Jennings, Ronald Joseph, Jacob Lawrence, Norma Morgan, Adrian Piper, Martin Puryear, Faith Ringgold, Aminah Brenda Lynn Robinson, Alison Saar, Betye Saar, John T. Scott, Lorna Simpson, Lou Stovall, Alma Thomas, Mildred Thompson, Dox Thrash, James Van der Zee, James Lesesne Wells, Charles White, and Hale Woodruff.
There are a series of free public programming in conjunction with the exhibit. An in-person reception and artists talk will be held Monday, October 3, 2022 from 6:30-8:30pm, featuring talks by four Atlanta artists whose works are on exhibit: Tina Dunkley, Jim Alexander, Kevin Cole, and Radcliffe Bailey. 
Throughout the run of the exhibition, the public will be invited to join curators and arts professionals for a virtual lecture series: 
A Community of Artists: African American works on paper from the Cochran Collection organized by the Robert C. Williams Museum of Papermaking is a selection from African American Works on Paper curated by Wes and Missy Cochran 
Blank Space (Medium)
(text and background only visible when logged in)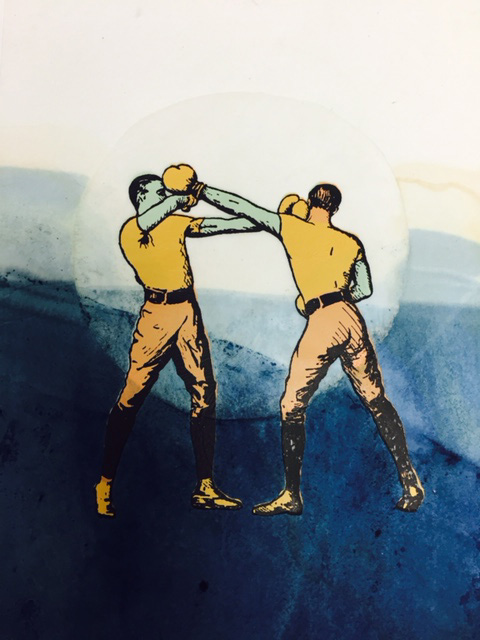 Boxers I & 2, Gretchen Schermerhorn, Screenprint on indigo dipped abaca/cotton handmade paper, 15" x 11"  
When Print Meets Paper
January 16 - April 21, 2023
Paper has always been an integral component to the printed word and image,  but in recent years it has come into its own as an expressive artistic medium. This exhibit curated by Georgia Deal highlights the intersection of print and paper in the works of Melissa Harshman, Kelly Taylor Mitchell, Marilyn Propp, Gretchen Schermerhorn and Georgia Deal. Each artist approaches this "marriage" of paper and print in unique ways, some coming from the language of print and others from a primary focus and love of hand papermaking.  Each artist agrees that the inherent properties of both print and handmade paper compliment and give voice to their ideas and concerns. Historically there is a "cross-pollination" (Gosin & Takahashi) between papermaking and printmaking that explores social, political and narrative themes. It is through this lens that we find commonality connecting the work of the featured artists.