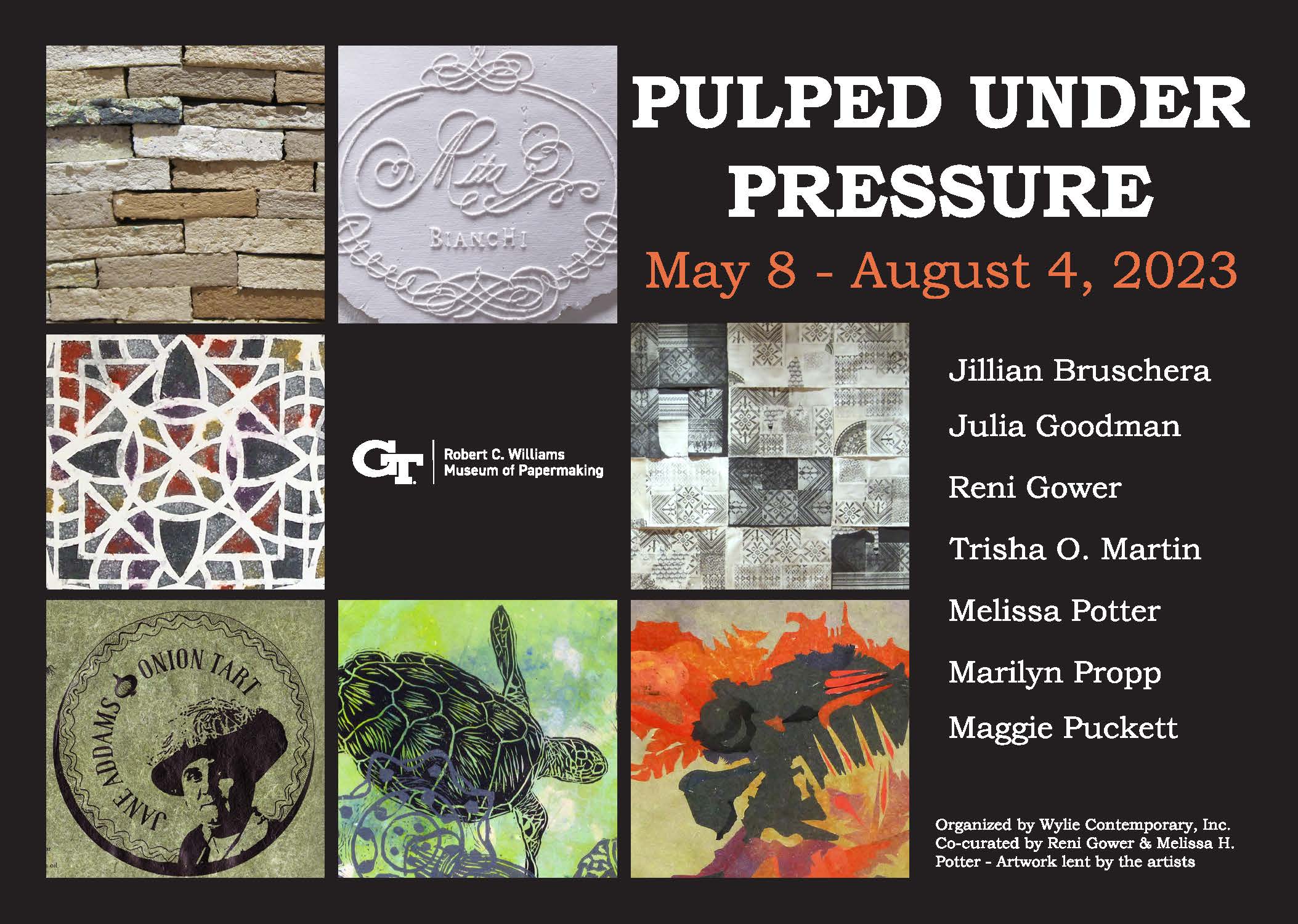 May 8 - August 4, 2023
With traditional hand papermaking at its core, Pulped Under Pressure underscores important 
contemporary issues steeped in history and craft. Enticed through touch, these works encourage a 
contemplative slowing down even as they urge acknowledgement of some of the most pressing issues (environmental crisis to global marginalization) facing civilization today. Each of the artists, Jillian Bruschera, Julia Goodman, Reni Gower, Trisha Oralie Martin, Melissa Potter, Marilyn Propp, Maggie Puckett, starts simply with a foundation of pulp made from natural fibers. Their multifaceted results incorporate a rich range of printmaking, letterpress, papercutting, and installation with a diversity of recycled disposable materials (junk mail, egg cartons, old cotton t-shirts, ripped denim jeans) as well as old bedsheets, beetroot, heirloom plants, and illuminated el wires. In very unique ways, these artists consider paper beyond its most common function as a passive surface of record or craft. Instead, the material is transformed and imbedded with content that turns communication into a public practice. By challenging assumptions, the artists of Pulped Under Pressure create artworks that are both beautiful and brave.
January 17 - April 21, 2023
Curated by Georgia Deal, When PRINT Meets PAPER focuses on artists working at the intersection of print and paper. This show includes the work of Melissa Harshman, Kelly Taylor Mitchell, Marilyn Propp, Gretchen Schermerhorn and Georgia Deal.  Each artist approaches the "marriage" of paper and print in unique ways, some coming from the lexicon of print and others from a primary focus and love of hand papermaking.  It can be argued that a commonality connects the works, with the origins of printmaking historically addressing social, political and narrative themes.
Blank Space (Medium)
(text and background only visible when logged in)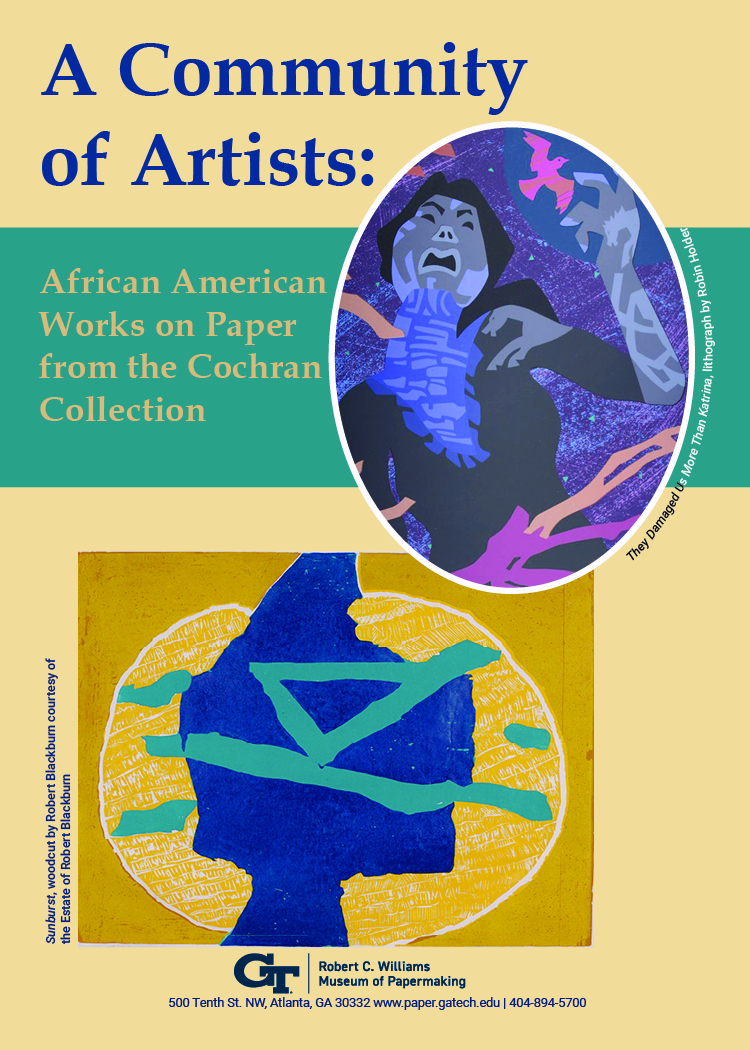 August 5 - December 2, 2022
A Community of Artists: African American Works on Paper from the Cochran Collection showcases fifty noted 20th century American artists.  The exhibit is a portion of the collection curated by Wes and Missy Cochran, of LaGrange, GA. Selections illuminate the contributions of artists with ties to Georgia, women artists, and master printers within the larger art world's dialogue around artistic expression, equity in the arts, and societal justice. 
This exhibit includes the works of Ron Adams, Jim Alexander, Emma Amos, Benny Andrews, Radcliffe Bailey, Trena Banks, Romare Bearden, Camille Billops, Robert Blackburn, Betty Blayton, Chakaia Booker, Moe Brooker, Vivian E. Browne, Beverly Buchanan, Elizabeth Catlett, Barbara Chase-Riboud, Sonya Clark, Kevin Cole, Eldzier Cortor, Allan Rohan Crite, Tina Dunkley, Allan Edmunds, Reginald Adolphus Gammon, Sam Gilliam, Trenton Doyle Hancock, Leon Hicks, Robin Holder, Curlee Raven Holton, Albert Huie, Margo Humphrey, Wilmer Angier Jennings, Ronald Joseph, Jacob Lawrence, Norma Morgan, Adrian Piper, Martin Puryear, Faith Ringgold, Aminah Brenda Lynn Robinson, Alison Saar, Betye Saar, John T. Scott, Lorna Simpson, Lou Stovall, Alma Thomas, Mildred Thompson, Dox Thrash, James Van der Zee, James Lesesne Wells, Charles White, and Hale Woodruff.
Blank Space (Medium)
(text and background only visible when logged in) January 18 - June 10, 2022
This exhibition celebrates the Fiber Identification Library, also known as the Fibrary, at the Institute of Paper Chemistry as an invaluable tool and clear documentation of the growth in scientific research within the paper industry of the 20th century. Taxonomy, experimentation, and uses of various fibers are discussed.
Blank Space (Medium)
(text and background only visible when logged in)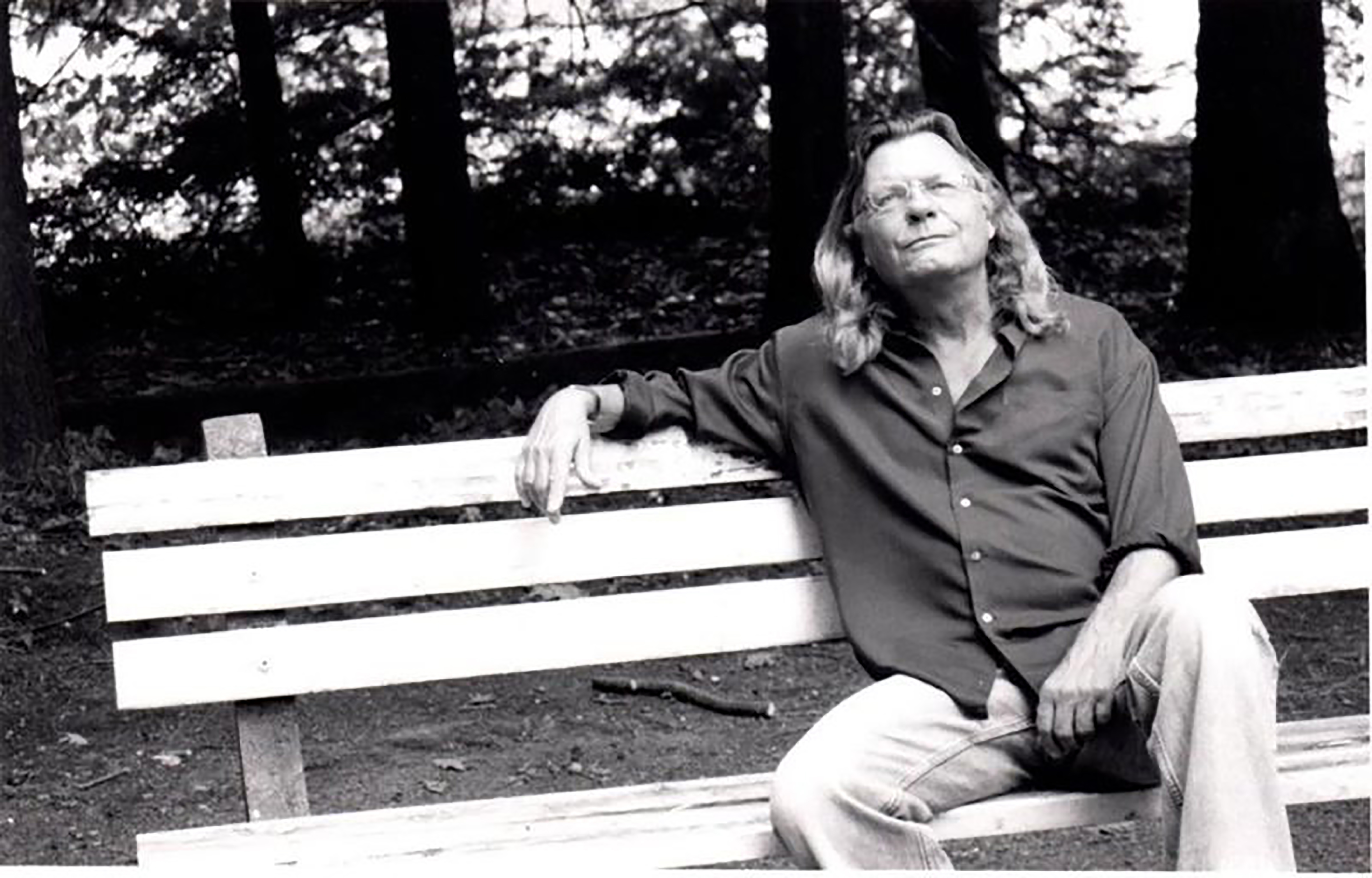 January 18 - June 10, 2022
Thomas Lux's commitment to publishing the works of emerging poets has been described as "radical generosity." Lux sought out poets in all walks of life, prioritizing the work over status, hierarchy, or income. He used small press printing as a tool to focus on poetry and encourage others in the process. By providing a pathway not present in the dominant publishing industry, Lux championed the experimental nature of poetry and opened doors for poets to gain a broader audience.
Blank Space (Medium)
(text and background only visible when logged in)
September 17 - December 3, 2021
This exhibition features approximately 50 works by members of the Guild of Book Workers, an book artists organization that promotes interest in and awareness of the tradition of the book and paper arts by maintaining high standards of workmanship, hosting educational opportunities, and sponsoring exhibits.
Blank Space (Medium)
(text and background only visible when logged in)
Virtual Exhibit
Engineers study how forces act upon materials and structures to design machines that take into account how potential forces could be applied. Paper engineers design structures and mechanisms out of paper to solve real-world challenges. 
Paper engineers develop designs for pop-up books, packaging, art, furniture, and much more. Kinetic Joy: Basic Principles of Paper Engineering explores the concepts behind the designs that bring paper to life and enable movement. 
Blank Space (Medium)
(text and background only visible when logged in)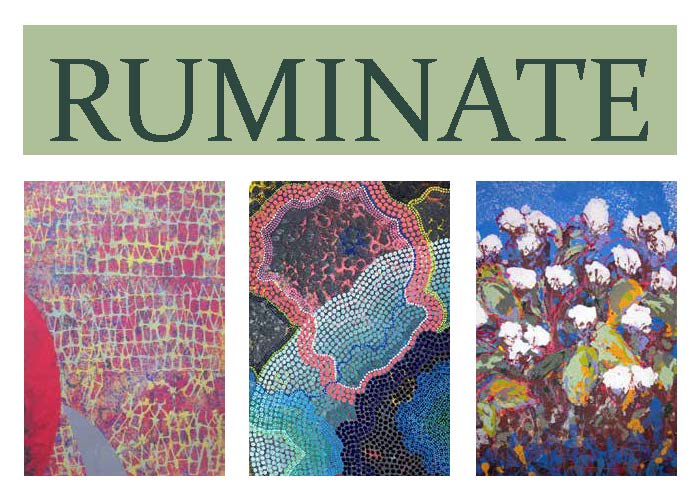 May 6 - August 6, 2021
Ruminate features pulp paintings by Lea Basile-Lazarus, Chad Hayward, and Andrea Peterson. Three artists experiencing and ruminating on their surroundings, utilizing pigmented paper pulp as medium. This thought-provoking exhibit invites viewers to explore the idea of situation, region, and circumstance through the distinct lenses of each artist. This grouping of works cover a unique range of impassioned and tangible conditions of place. All of the works utilize pigmented paper pulp to create imagery. A variety of pulped plant fibers create the works, including cotton rag, flax, abaca, phragmites, and millet straw. Each artist approaches the medium with their own way of working, allowing the viewer to see a wide range of mark-making with the unique material of paper pulp.
Blank Space (Medium)
(text and background only visible when logged in)
February 26 - April 16, 2021
Records of Life explores the ways people organize and make sense of their thoughts, experiences, and life. Using the written records of Harrison Elliott, a paper historian active in the first half of the 20th century, this exhibit dives into the methods people use to make information useful to themselves and to others. In addition to pieces from Harrison Elliott's collection, the exhibit includes logbooks from the Institute of Paper Chemistry, contemporary bullet journals used by Georgia Tech students, and more. 
Blank Space (Medium)
(text and background only visible when logged in)
September - November 2020
The Triennial celebrates its 20th anniversary, since its first opening reception in December, 1999 at the Robert C. Williams Museum of Papermaking in Atlanta, GA. It was imagined in a conversation between Lynn Sures and Cindy Bowden, as a show highlighting the work done by college students in the field of papermaking.
Blank Space (Medium)
(text and background only visible when logged in)
Blank Space (Medium)
(text and background only visible when logged in)