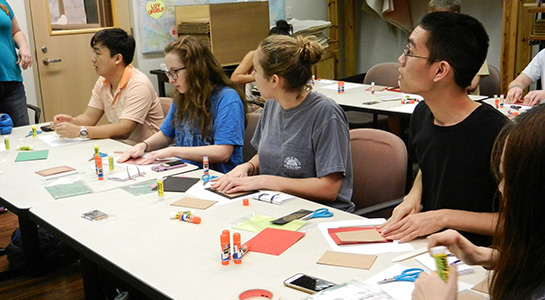 Fee per Person: $12.00 - $15.00, materials included
Fee per Person for Georgia Tech Classes: $8.00 - $10.00
Minimum Attendance: 5
Maximum Attendance: 25
Time of Program: 75 min
COVID Updates
The Robert C. Williams Museum of Papermaking has resumed offering all programs at normal group capacity. Per Georgia Tech guidelines, visitors who have not received a COVID-19 vaccine are strongly encouraged to wear a mask while participating in museum programming. Hand sanitizer is available for use.
We reserve the right to alter and cancel workshops in order to protect public safety based on recommendations from Georgia Institute of Technology, the Georgia Department of Public Health and the American Alliance of Museums. All participants will be notified in a timely manner of any changes to the program.
About Group Paper Arts Workshops
Interested in integrating a hands-on paper arts workshop into your curriculum? Then schedule a book arts, printmaking, or other paper arts experience with us to build off what students are learning in class. Book one or a series! Group paper arts workshops may be booked Monday- Friday, 10am - 4pm, depending on educator availability. Programs are suitable for all skill levels. Can be combined with the papermaking workshops for a multi-visit experience.
The Paper Museum welcomes opportunities to work with Georgia Tech faculty and staff to provide enrichment experiences for university classes. The museum is an extraordinary resource for a variety of disciplines
Make a Reservation
To make reservations, contact click reserve a session button or contact Education Curator at 404-894-7840 or Anna.Doll@rbi.gatech.edu,
Programs are booked on a first-come, first served basis. Programs are available Tuesday-Friday, 10am - 7pm, depending on instructor availability. A non-refundable deposit of 50% of the balance will hold the program date. Payment can be made by cash, check (made out to Georgia Tech), or charge (Visa, MC, Discover, or American Express).
Blank Space (Medium)
(text and background only visible when logged in)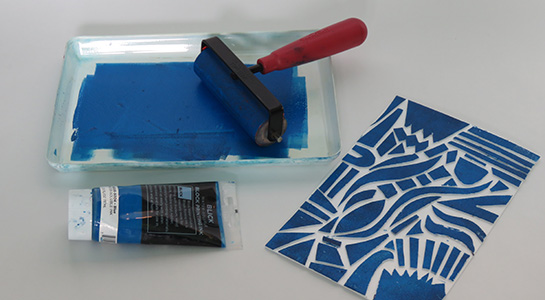 Monoprint
Description: Monoprints are one-of-a-kind prints created using the Museum's etching press. Students will create unique designs to print using a variety of materials
Fee: $15.00 per a student / $12.00 per a Georgia Tech student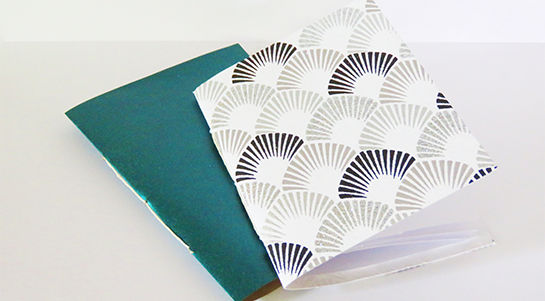 Pamphlet
Description: Basic pamphlet books have 8 pages with decorative covers and a three hole stitch binding. This booklet can be taught as a quarto or octavo booklet, or with additional pages.
Fee: $12.00 per a student / $8.00 per a Georgia Tech student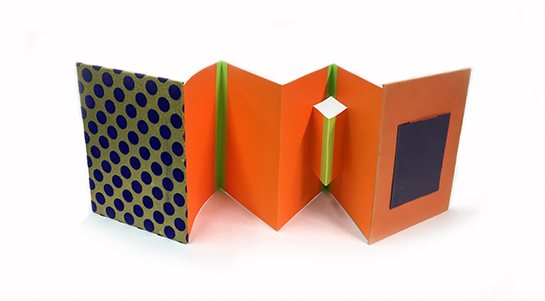 Accordion Book
Description: Accordion Books have tag-board covers, wrapped with decorative paper and pages that fold in a zig-zag manner. Pages with pockets and small pop-ups can be added to the book if requested.
Fee: $12.00 per a student / $8.00 per a Georgia Tech student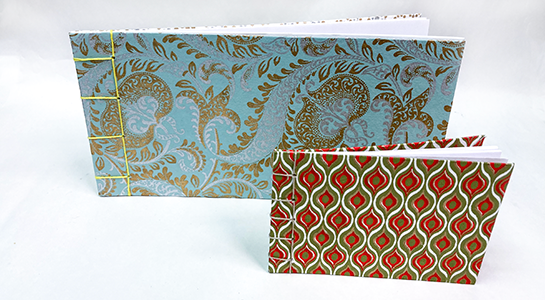 Japanese Stab Book
Description: The Japanese Stab binding is a traditional binding technique called Yotsume Toji, which translates to "four holes." Decorative paper wrapped covers enclose the interior folio pages which are bound together through punched holes and stitching
Fee: $12.00 per a student / $8.00 per a Georgia Tech student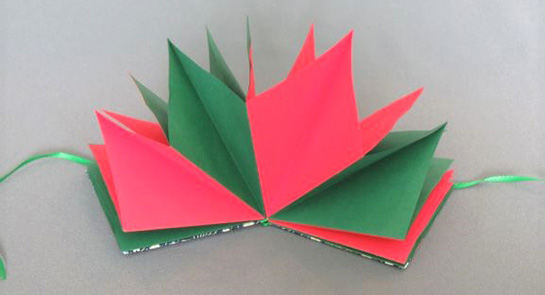 Petal Fold Book
Description: The petal fold book technique combines book binding with origami to create a book that blooms, or unfolds at it opens. The book has decorative paper wrapped tag-board covers, 8 origami folded pages with a ribbon binding and closure.
Fee: $12.00 per a student / $8.00 per a Georgia Tech student