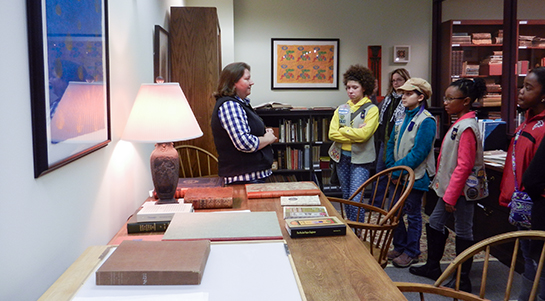 Senior Girl Scouts can earn portions of the Traveler badge!
Scouting Level: Senior
Minimum Attendance: 5
Maximum Attendance: 15
Fee per Person: $20, includes materials
Time: 2.5 hours
COVID Updates
The Robert C. Williams Museum of Papermaking has resumed offering all programs at normal group capacity. Per Georgia Tech guidelines, visitors who have not received a COVID-19 vaccine are strongly encouraged to wear a mask while participating in museum programming. Hand sanitizer is available for use.
We reserve the right to alter and cancel workshops in order to protect public safety based on recommendations from Georgia Institute of Technology, the Georgia Department of Public Health and the American Alliance of Museums. All participants will be notified in a timely manner of any changes to the program.
About Senior Adventure Travel
Meet an international traveler—paper!  Discover a papermaker who traveled all over the world in search of papermaking knowledge one hundred years ago.  How did he get there?  How would you get there today?  See international treasures from paper historian Dard Hunter's paper collection and create your own handmade paper to take home. Scouts will also watch a video about papermaking, review travel itineraries from one of Dard Hunter's trips, and cost one of his travel itineraries out. Then students will have the opportunity to learn various words and phrases in the different languages of the places that Dard Hunter visited. The final step required to earn the badge is to take a trip and make a memory - step 5 is not a part of the Senior travel program that we offer. 
Make a Reservation
To make reservations, click the book a scout program button or contact Education Curator at 404-894-7840 or Anna.Doll@rbi.gatech.edu,
Programs are booked on a first-come, first served basis. Programs are available Tuesday-Friday, 10am - 4pm, depending on instructor availability. *** Note: Any programs scheduled outside of the museum's regular hours may be subject to an additional fee.*** A non-refundable deposit of 50% of the balance will hold the program date. Payment can be made by cash, check (made out to Georgia Tech), or charge (Visa, MC, Discover, or American Express)