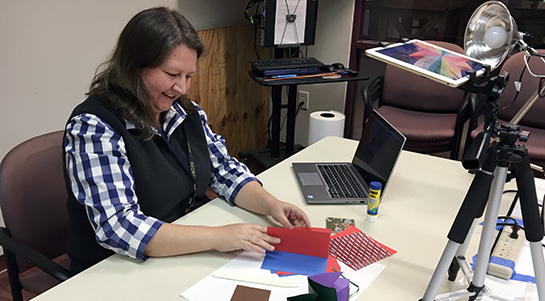 Cadette Girl Scouts can earn their Book Artist Badge Virtually!
Flat fee: $100.00
Optional Kit: $15.00 per a scout
Minimum Attendance: 5
Maximum Attendance: 25
Time of Virtual Program: 2 hours 30 minutes
Virtual Cadette Book Arts Program
What makes a book a book?  In this virtual workshop you will discover some of the many different ways that books are made.  While live under the document camera participants will have the opportunity to view unique books from our rare book room, learn the parts of a book, and make several different kinds of books.  From accordion books to miniature volumes created from a single page, you'll create a treasure to fill!
This program is offered virtually with a maximum of 25 scouts. Each group needs one adult group leader present online with the group. This workshop can be booked live or a pre-recorded video is available for purchase. Kits are available for pick-up from the museum or will be shipped to group leader. Group leader is responsible for kit distribution.
Make a Reservation
To make reservations, click the book a scouts program button or contact Education Curator at 404-894-7840 or Anna.Doll@rbi.gatech.edu,
Programs are booked on a first-come, first served basis. Programs are available Tuesday-Friday, 10am - 4pm, depending on instructor availability. *** Note: Any programs scheduled outside of the museum's regular hours may be subject to an additional fee.*** A non-refundable deposit of 50% of the balance will hold the program date. Payment can be made by cash, check (made out to Georgia Tech), or charge (Visa, MC, Discover, or American Express)