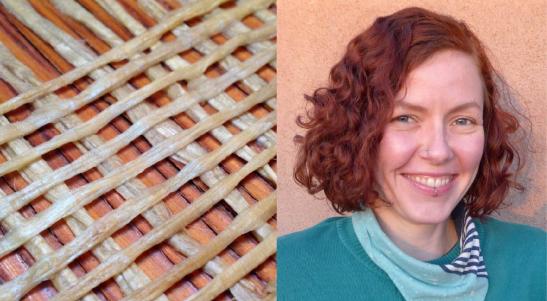 Virtual Bark Paper Demonstration Lecture
Date:
Tuesday, March 8, 2022
Time:
7:30-8:30pm EST
Category:
Demonstration Lectures
Instructor:
Lisa Miles
Member Price:
FREE
Non-Member Price:
FREE
Registration Deadline:
Program Description:
Join us for this virtual Bark Paper Lecture Demonstration with guest artist Lisa Miles. Mesoamerican beaten bark papers, known as amate, amatl, or huun, have been used by ancient bookmakers and scribes to produce codices since pre-Columbian times. Explore traditional amate papermaking technique along with modern innovations as practiced by a 21st-century artist and papermaker. Lisa Miles creates one-of-a-kind beaten bark paperworks using plant-based materials and natural dyes. Approximating traditional methods, Miles creates bark paper by beating plant fibers with a volcanic stone on a wood board. Instead of the ficus native to Mexico, she crosses cultures and uses Japanese kozo and mitsumata fibers. By incorporating modern advancements alongside historic practices, she examines the role of humans as tool users and makers of meaning. Miles will be sharing a brief history of bark paper, demonstrating amate-style papermaking, and connecting the process to her contemporary art practice. This program is geared towards adult audiences. 
How to Register for this event:
Register through Eventbrite.
Contact Anna Doll at Anna.Doll@rbi.gatech.edu or 404-894-7840 for questions or more information.
Visit Lisa Miles's Website