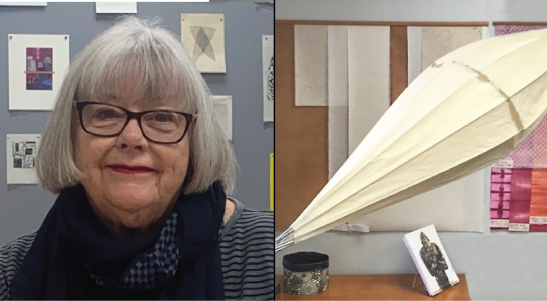 Virtual Talk: The endless versatility of Washi
Date:
Tuesday, May 31, 2022
Time:
7:30-8:30pm EST
Category:
Lectures
Instructor:
Nancy Jacobi
Speaker:
Nancy Jacobi
Member Price:
FREE
Non-Member Price:
FREE
Registration Deadline:
Program Description:
Join us for this virtual Lecture, Stitch, dye, sculpt, fly - the endless versatility of Washi,  with guest speaker Nanci Jacobi. Washi means Japanese paper - Wa = Japanese and shi = paper. Jacobi's love of Washi and its history led her to establish the Japanese Paper Place, in Toronto Ontario. The Japanese Paper Place is a major distributor of washi. Jacobi has a vast knowledge of washi, and its use by Western artists. During her lecture she will be imparting her depth of knowledge about heritage and contemporary washi, as well as how artists use it today, including artist Cybèle Young. She will also share about the stunning decorative paper known as Chiyogami, its heritage and use by artists as well. Then there will be a show and tell section where Jacobi will shows examples of various types of washi and the Robert C. Williams Museum of Papermaking will share Chiyogami sample books and washi artifacts from the collection. This program is geared towards adult audiences. 
How to Register for this event:
Register through Eventbrite! For more information contact Anna Doll at Anna.Doll@rbi.gatech.edu or 404-894-7840.
Visit the Japanese Paper Place's Website