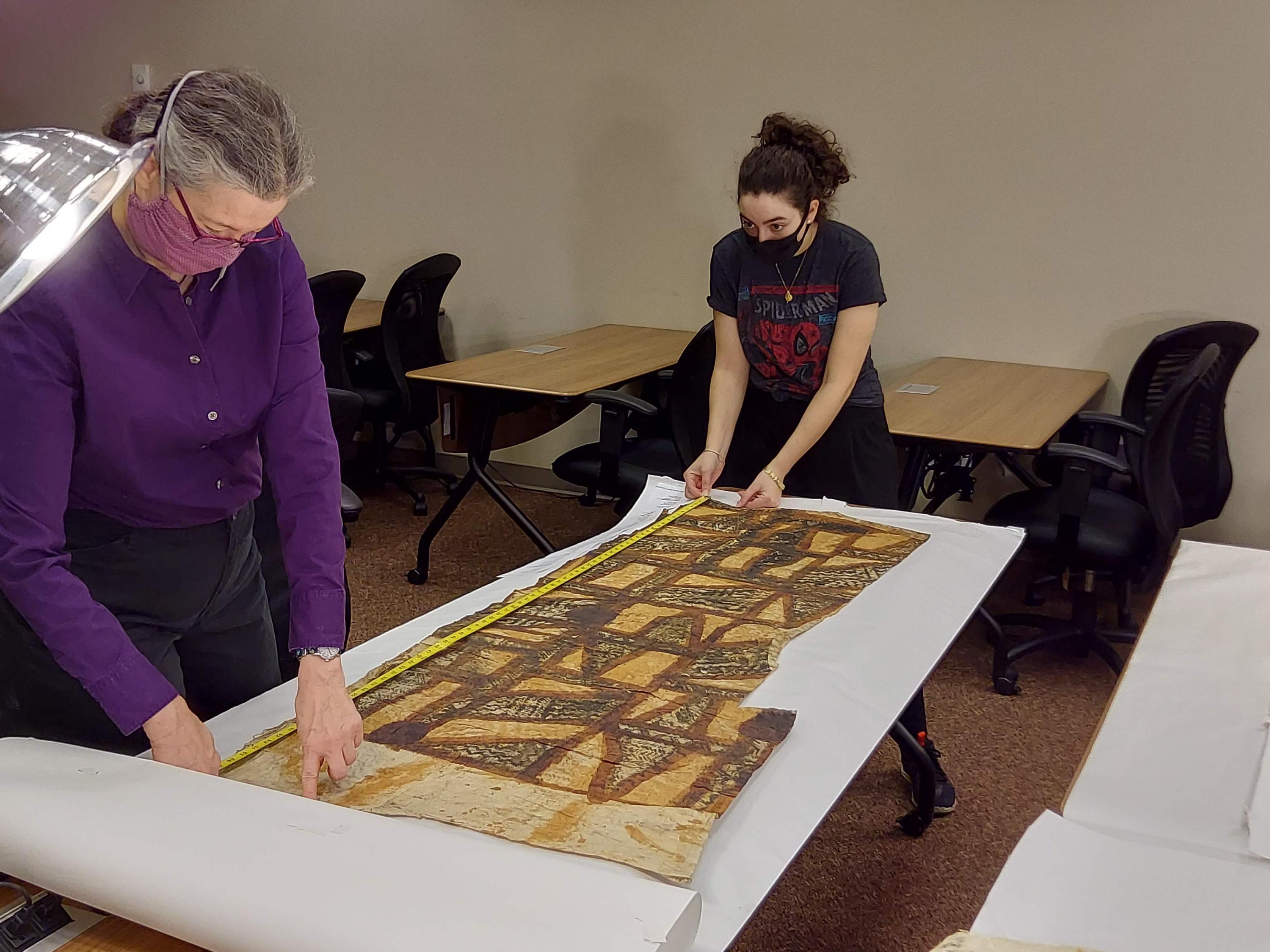 Mar 01, 2022 - Atlanta, GA
Over 350 objects, 3 staff, 2 volunteers, one conservation consultant, and one intense week in November saw the implementation of the National Endowment for the Humanities Grant Bark Papers of the Americas and Pacific Tapa: Care and Conservation at the Robert C. Williams Museum of Papermaking. The museum proposed a condition survey of a selection of objects since the institution has a significant collection of these materials that have not been closely examined in some time. Interest by historians and anthropologists into these types of objects has increased in the last ten years, since objects and traditions from indigenous cultures that have been excluded from many historical narratives. In addition, the majority of the objects in the museum's collection were collected in the first half of the twentieth century by paper historian Dard Hunter and are strong examples of bark paper from the era and earlier.
What is Bark Paper?
Bark papers, tapa, and amatl are a paper-like material made by cultures around the world and have a history closely intertwined with papermaking. Known by different names depending on where in the world it is made, these objects share characteristics in production and materials. The inner bark of a mulberry plant is beaten into a pulp by hand using a tool—either stone or wood. Some of the tools have grooves, others are smooth. Sheets are formed by flattening the pulp into a thin layer. Decorative elements can be included in manufacture by flattening the pulp over raised designs on boards or mats. Scholarly interest in tapa, amatl, and other kinds of bark papers have grown in recent years, which was a motivating factor in reviewing the condition of the collection and determining how to best take care of it for the future.
The Survey Process
The museum worked with conservator Stephanie Watkins to perform the condition survey of objects in the collection. Watkins has been a paper conservator for over 35 years and has familiarity with the museum's collection since she was on the collection survey team before the museum moved to Atlanta in 1989.  She brings a wealth of knowledge as well as real-world understanding of resources available for the collection to the project.
To prepare for the condition survey, museum staff pulled records from the collections database, which resulted in about 100 records. Staff then began gathering objects into a staging area in museum storage. While pulling objects, additional bark paper pieces were identified and included for review by the conservator. The total number of pieces surveyed ended up being just under 350: 277 bark papers, 27 tools, 10 plant samples, 4 copies of Primitive Papermaking by Dard Hunter, 24 objects on exhibit, and 15 objects of undetermined nature. Museum director Virginia Howell worked with Stephanie to create a workflow that would enable her to review all the pieces in a timely manner. The result was to look at the tools first, since they are small and not too many to observe. Then the books by Dard Hunter, followed by the actual bark paper samples, from smallest to largest.
When the actual condition survey happened in November, the procedure was adjusted to examine the largest pieces midway-through, rather than at the end. This change was made for adequate time to unroll and closely examine large pieces from their storage rack. An additional preparation step was to indicate which storage box pieces were removed from so the return would be simple. Creating written documentation for every step allows museum staff to tie objects to records and to locations. Watkins created a checklist to speed the process of evaluating pieces: double-check dimensions, describe appearance, and indicate any marks or tears on the piece. Condition issues, such as evidence of insects, dirt, fading from light exposure, and other issues were also documented. Accession numbers were double-checked, and all information was entered into a large spreadsheet.
After reviewing all of the pieces, Watkins created an extensive document for the museum that contaned her analysis of the objects and broke down conservation needs. While no piece is in immediate danger of destruction, there are pieces needing additional supports and more secure housing. She also provided suggestions for alternative pieces to exhibit in the museum gallery. Some artifacts have been on exhibit for many years and are brittle and fragile as a result. Museum staff is using Watkins's recommendations to determine what will be the best outcome for these pieces. Thorough documentation for rolled storage and flat storage takes into account space limitations in collections storage, as well as the necessity to have cost-efficient solutions.
Discoveries
The most important take-away from the project is that the collection is in stable condition: there is no evidence of insect damage or mold, and the pieces are currently housed in a safe manner. The second observation is that the Paper Museum has a much larger collection than the electronic database suggested. By bringing all the pieces together and focusing on them, staff were able to see connections between pieces: beater marks visible on bark paper samples matched the lines carved into tools. Large examples of bark paper had samples cut out—which were then found in Primitive Papermaking. Some of the tapa pieces are very large, approximately 6 feet wide and 12 feet long or 18" wide and 21' long. We were able to fully unroll them and see them in a single view, an action which has not been done in at least a decade. Watkins also identified several bark papers that were housed in different locations that belong together—we could re-associate pieces that had been separated over time. The full picture of the collection is much clearer to museum staff, and we are able to share more about what we know with the public. The historic legacy of the collection is also in clearer view. Being able to trace the tool that created a particular piece to the object to its description and inclusion in Primitive Papermaking is a complete story.
Next Steps
From here, museum staff plan to follow through on the suggestions from the report. New housing for large objects will be constructed, and smaller pieces will be stored in suitably -sized archival boxes in a single area in collections. We are also developing an online exhibit to show the objects in the collection. The condition reports will augment the known history of the pieces. Museum staff are now more knowledgeable about bark papers, and are able to translate this content into programs and exhibits. An additional benefit is the outline of the survey steps will be utilized for reviewing further selections in the museum collection.    
Bark Papers of the Americas and Pacific Tapa: Care and Conservation was funded by a Preservation Assistance Grant from the National Endowment for the Humanities. These grants help small and mid-sized institutions improve their ability to preserve and care for their significant humanities collections.