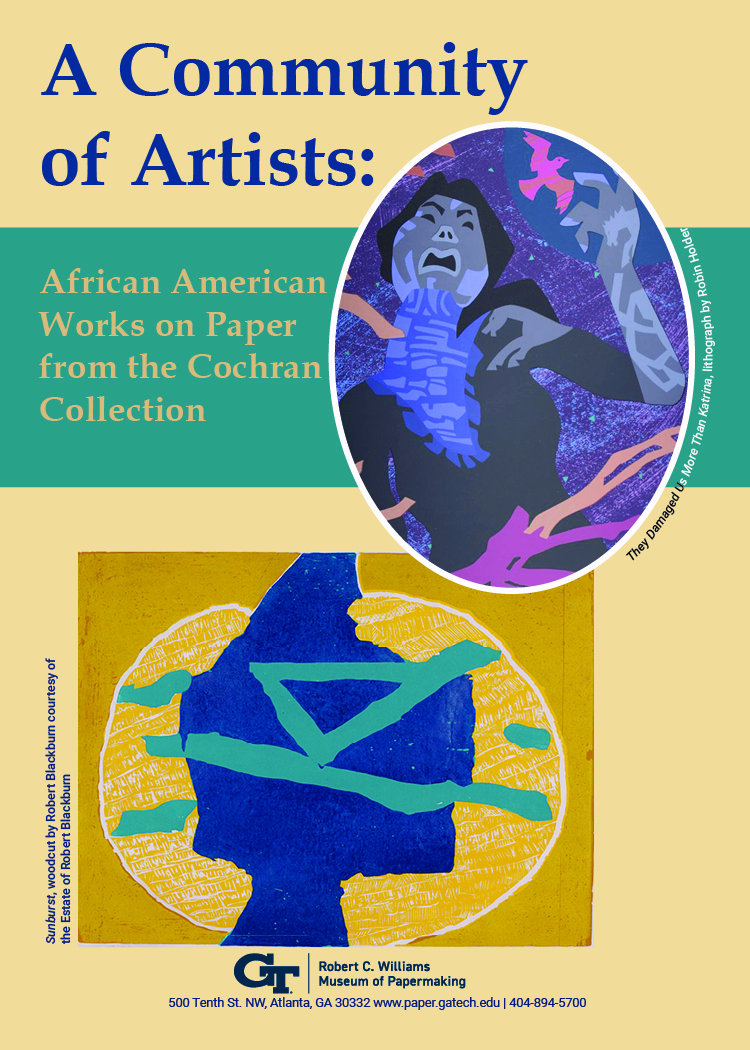 Aug 31, 2022 - Atlanta, GA
August 5 - December 2, 2022
A Community of Artists: African American Works on Paper from the Cochran Collection, showcases fifty noted 20th century American artists. Collected and curated by Wes and Missy Cochran, the Robert C. Williams Museum of Papermaking chose a selection from the larger collection that not only tells the story of 20th century art in America but highlights the contributions of Georgia's artists to this larger story. The show also illuminates the roles of female artists and Black master printers in creating a cross-generational commentary on artistic freedom, activism, and community. Whether intentionally or coincidentally, the lives and voices of the featured artists intersect to create a lively dialogue that remains relevant to today's audiences. The exhibition is on view from August 5 - December 2, 2022. An in-person artist talk is scheduled for Monday, October 3, 6:30-8:30p and several virtual lectures (Sept 6, Sept 20, & Nov 1, 7p EST) round out programming. The exhibition and related programming are free and open to the public. Located at 500 Tenth St. NW, Atlanta, GA 30332, the Robert C. Williams Museum of Papermaking is open Monday – Friday, 9-5p.
"The Cochran Collection is a Georgia treasure. It is quite generous of Wes and Missy Cochran of LaGrange to make their phenomenal collection accessible to the public in exhibitions like this. The works of the artists featured in A Community of Artists: African American Works on Paper from the Cochran Collection on view at the Robert C. Williams Museum of Papermaking are artists I grew up studying in art history books, and many are living artists who continue a strong studio practice! The accomplishments of the artists are too numerous to fully name. The exhibit examines the reverberation of their work and celebrates their contributions to the artistic dialogue of the 20th Century."                              -Jerushia Graham, Museum Coordinator
The theme of community is expressed between the artworks and through the relationships of the artists included in the show. The pieces – some figurative, many abstract – encourage the viewer to reflect upon the social, cultural, and political forces that influence artists. The story of American history can be told through the works and biographies present in the exhibit. Each artist's unique perspective and lived experiences expressed through their artwork creates a framework for artist groups to form and for later artists to build upon. Viewers are invited to discover this nuanced community of artists that reach beyond media, geography, and generational perspectives to give voice to the entire spectrum of emotions.
VIRTUAL AND IN-PERSON PUBLIC PROGRAMS
There is a series of free public programming in conjunction with the exhibit. An in-person reception and artists talk will be held Monday, October 3, 2022, from 6:30-8:30pm, featuring talks by four Atlanta artists whose works are on exhibit: Tina Dunkley, Jim Alexander, Kevin Cole, and Radcliffe Bailey.
Throughout the run of the exhibition, the public will be invited to join curators and arts professionals for a virtual lecture series:
The museum will be open until 8pm on the following dates for visitors to see the exhibit: 
Thursday, September 22
Thursday, October 24
Thursday, November 17
Free tours for the public will be held on select dates through the exhibition run:   
Friday, Sept 9            10 – 10:30    
Friday, Sept 16          10 – 10:30                          
Thursday, Sept 22    7 – 7:30         
Wednesday, Sept 28   11:30 - 12         
Friday, Oct 7             10 – 10:30    
Friday, Oct 14           10 – 10:30    
Wednesday, Oct 19  11:30 -12       
Thursday, Oct 27      7 – 7:30         
Friday, Nov 4            10 – 10:30    
Wednesday, Nov 16   11:30 - 12